30 Night Trial

1 Year Warranty

0% Finance

Premium Delivery
Bamboo Mattress Topper With Charcoal
Are you searching for better sleep but don't want to wave goodbye to your current mattress? Whether you want to give your tired mattress a revamp or treat yourself to an added layer of luxury, the OTTY Pure mattress Topper can do it all. With the ability to prolong the life of a mattress while providing extra comfort and support, the mattress topper is a cost effective option without having to purchase an entire mattress. Using the same technology as our Pure Hybrid mattress range, the topper includes bamboo and charcoal which work simultaneously to create an ideal sleeping surface.
Infused Quilted Cover
Our luxury thick knit breathable cover is infused with 2cm of bamboo & charcoal memory foam and creates a soft, cool sleeping surface.
Charcoal Bamboo Memory Foam
A 3cm bamboo memory foam layer with charcoal. Keeps your temperature regulated and will wick away moisture stitched into the cover.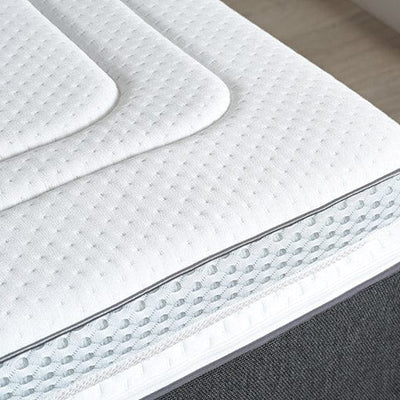 Fits To Any Existing Mattress
The OTTY Pure Mattress cover can fit the main U.K. mattress sizes and its bamboo and charcoal infused memory foam layers makes the topper 5cm tall.
Anti Slip Base
The Bamboo Mattress Topper has a unique anti slip base which makes it extremely easy to sit on top of any mattress, no matter the depth. 
The Perfect Level of Comfort
If you are looking to soften a mattress that is too firm or rescue a tired mattress without the expense of a new purchase then our 5cm deep memory foam topper will add the comfort required.
On a firmness scale, we'd rate the topper 5.5/10 however this will be impacted on what you are putting the topper on. Luckily for you, you can trial the topper for 14 days and return it to us for a full refund, if it is not 100% right for you.
Bamboo Memory Foam Mattress Topper Information
What sizes does it come in?
You can purchase the topper for any U.K. Single (90cm x 190cm), Double (135cm x 190cm) , King (150cm x 200cm)or SuperKing (180cm x 200cm)
Can I Wash My Topper?
The Topper has been designed to stay fresher for longer however you can choose to have it dry cleaned from time to time. It is not machine washable.
What If it's not for me?
Try the topper for up to 14 days after delivery. If you are not 100% satisfied with the product, simply return it to us for a full refund.